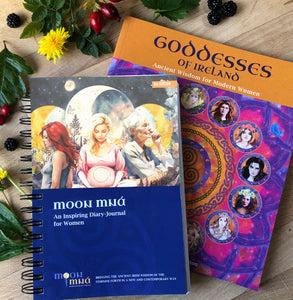 Irish Goddesses - Ancient Wisdom for Modern Women
Thirteen Goddesses of Ireland reach forward from the mists of time as potent archetypal energies to empower us today. Here contemporary Irish women share their personal accounts of how these Goddesses resonate with them, informing and influencing their lives. This beautiful spiritual book highlights how these female Irish deities and their wisdom echo down the ages to inspire, encourage and guide us today.
The Moon Mná Diary-Journal 2024
The 2024 Diary-Journal is A5 format, wire-bound and displays 2 days per page. It is richly illustrated throughout and this year's theme features the Moon and her Phases. There is so much to read and do each month - you can set monthly intentions for the various areas of your life. You can take note of your 'soul moment' each evening, record your Moontime with the daily tracker and explore our monthly Moon Crafting. If you feel a strong connection to the Moon then this Diary-Journal is perfect for you.
Also included:
The Moon phase for every night (Northern Hemisphere)

Daily Astrological signs

Monthly Self-Ceremony

Inspiring Women's Stories

Monthly Theme

Monthly recipe 

Daily/Yearly Moontime Tracker

Moon Craft - wonderful projects each month 

Inspirational women's quotes

Gaelic words to learn

Celtic Sayings

Affirmations

Our Moon connection

Monthly Check-In Review
A great gift for yourself, sister, mother, friend, partner, wife or girlfriend!